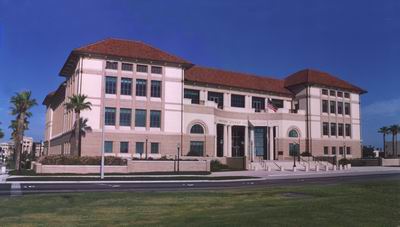 The new Corpus Christi Federal Courthouse was designed with technology courtrooms. Each courtroom was designed with digital audio systems and presentation systems. All five courtrooms, two District, two Magistrate and one Bankruptcy are equipped with a digital recording system. All proceedings are recorded on a computer using FTR Gold recording software. A copy of each proceeding can be obtained through the courts on CD-ROM or cassette tape. The FTR Player Plus software is required to listen to the digital audio recordings on a computer. FTR Player Plus is available as a free download through www.ftrgold.com. Please contact the courtroom Electronic Recording Operator for each courtoom for more details.
Dowload instructions for using FTR Player Plus (PDF)
The District courtrooms for the Honorable Hayden W. Head and the Honarable Janis Graham Jack have visual presentation systems which include:
Evidence Camera / Document Camera
Projector and Projection Screen
Flat panel monitors
Annotation tools
Color Video printer
SVHS VCR
The Honorable Richard R. Schmidt's Bankruptcy courtroom includes:
Evidence Camera / Document Camera
Projector and Projection Screen
Flat panel monitors
Color Video printer
SVHS VCR
The Honorable Janis Graham Jack endorses the use of technologies in her courtroom and encourages the use of the court-provided equipment. Judge Jack custom designed her lectern to incorporate her presentation equipment so that it could be easily utilized by attorneys to present evidence in trial. Attorneys can use the court provided computer to access the internet or local cases on the courts system. The computer is connected to a printer so that documents can be printed. The attorneys can play video tapes or put documents or evidence on the document camera and also have the ability to mark up images with a annotation tool. Audio and Video inputs are also available on the lectern for attorneys to pulg the laptops into the courts presentation system. Auxiliary inputs and analog phone lines are also available at each counsel table.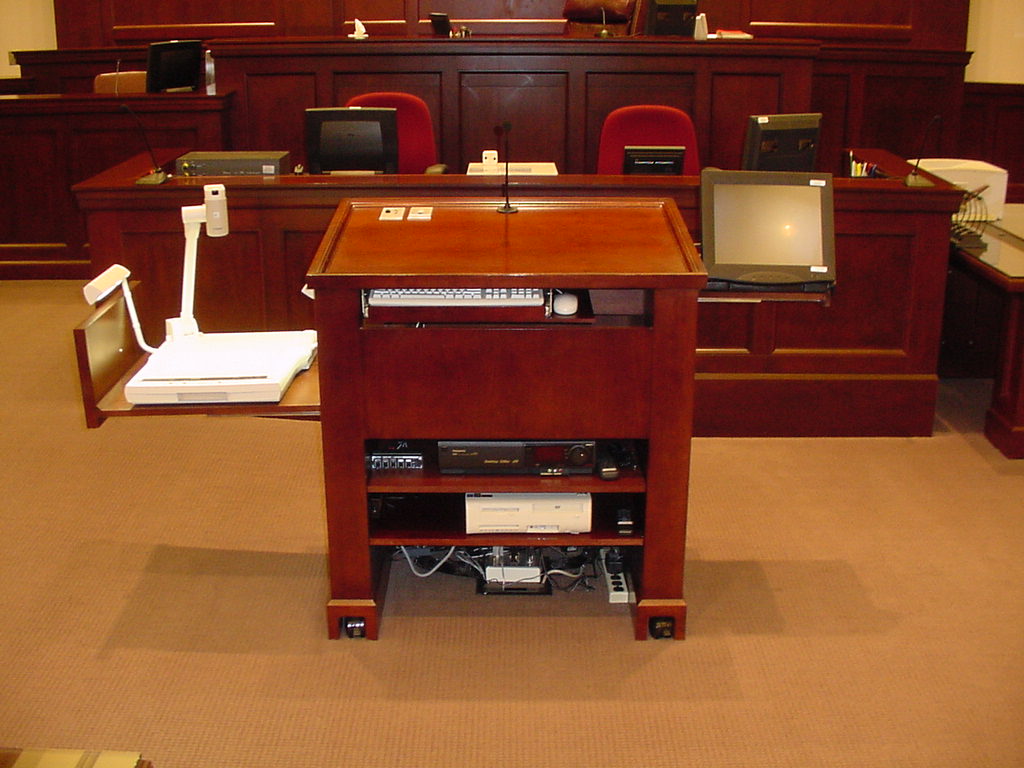 Judge Janis Graham Jack's Courtroom Technology Video
Judge Janis Graham Jack created a video with her staff to show how each piece of equipment is used. Attorneys admitted to practice in the Southern District of Texas may obtain a DVD copy by calling 713-250-5729.
Choose a method for viewing the video:
for Windows PC's:
47.28 MB .WMV Video File
(uses Windows Media Player)
or
for Windows or Mac OS:
93.01 MB .MOV Video File
(uses QuickTime - may need to right-click and save file before viewing)
Attorneys planning to use electronic equipment in the courtroom should always notify the Case Manager for each court prior to using the equipment or bringing in your own equpiment.
For technical assistance or questions, you may contact us Courtoom at (361) 888-3403.
Download a detailed list of all equipment available in each courtroom at the Corpus Christi Federal Courthouse below.