Coronavirus Disease 2019 (COVID-19)
Please read the following important information regarding COVID-19 and jury service:
Please know that the Court is making every effort to ensure your safety.
Jurors must wear a mask at all times in both public and shared spaces of the building. If you do not have a mask, please identify yourself as a juror and one will be provided.
Prior to entering the courthouse, each juror will go through a screening process and temperature reading. Jurors will be placed in rooms large enough to ensure that all recommended social distancing protocols are implemented.
Hand sanitizer, Clorox wipes, and gloves will be available in each designated jury area.
We encourage you to use the hand sanitizer once you enter the designated room, when you leave and throughout the day.
The areas will be cleaned in advance as well as each evening, but please feel free to use the provided Clorox wipes for your individual space.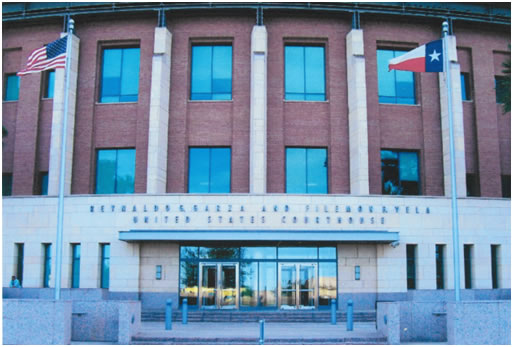 UNITED STATES DISTRICT COURT
SOUTHERN DISTRICT OF TEXAS
BROWNSVILLE DIVISION
Welcome to Federal Court Jury duty for the United States District Court for the Southern District of Texas – Brownsville Division.
Information provided on this web page pertains to potential petit jurors and grand jurors who are summoned to report for service on or after January 1, 2009.
Qualification Questionnaire
How to check your jury status:

OR

Call Toll Free
800-582-9109
Information Regarding Jury Duty